Desktop Insight is our interactive software that you download and install on Windows, Linux and Macintosh. It has been the world-wide industry standard since 1980. However we no longer support it (although from time to time we recompile it to improve compatibility with changes in computer hardware), our development efforts are now focussed on the insight-live.com webapp.

Insight brings you the power of glaze chemistry to understand, formulate, fix and adjust glazes. Digitalfire.com provides training and reference materials that make it possible for almost anyone to take control of their glazes.
Desktop Insight is Free. But With a Catch!
Download it from the Files panel in your Insight-live.com personal or group account or on the home page at https://digitalfire.com.
It installs without need of a key.
Replace your current keyed version of desktop Insight with this.
No features have been removed.
It will never expire.
The Catch
Desktop Insight is no longer supported, we now focus on insight-live.com, get an account there so you can login and do much more.
How to Download Desktop Insight
Desktop Insight can be downloaded for free from the Files panel in your active Insight-live.com account. However Insight-live.com is the next generation, it is online and much more comprehensive so we are advising all clients to use it instead.
Downloading: The Files panel title bar is orange. Open it and check the Public Files checkbox. Then click Search. You will see the publicly available files.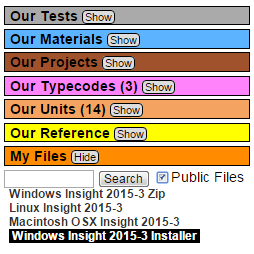 Click the one you want and its panel will appear to the right. Read the information, click the URL links at the bottom to learn more, then click the link to download the file.

Please read the Information
Especially for the windows version. There is possibility you will also have to download the Microsoft C++ Redistributable 32 or 64 bit support libraries (the reason is explained in the text). This is a separate download and install (only needs to be done once).
Why You Might Still Need Desktop Insight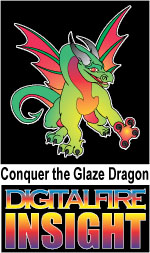 Insight-live is much more about your data but it still does glaze chemistry. However desktop Insight is still more interactive and easier if you just want to mess around with chemistry and UMFs. Desktop Insight is still useful in school and university programs where teachers are just trying to teach chemistry concepts.
What is it?

A desktop application for Windows, Linux, Macintosh that you download and install. Unfortunately we live in a web-centric world where fewer and fewer people know how to download and install software, they just login to their accounts at on websites and webapps to get their work done (e.g. Insight-live.com).
Insight is a classic glaze chemistry calculator
It interactively converts recipes to formulas and back. The main Insight window shows side-by-side recipes and their formulas, you can make chemistry changes to one while comparing it with the other.
Insight is also a library and a teacher
It puts at your fingertips a huge amount of information to help you learn the principles of glaze chemistry and it teaches you how to adjust, fix and formulate glazes.
It is a database
You can store all your recipes, picture, material information where you can easily find it.
It is a problem solver
Using our videos, instructional and reference materials and our personal help you can solve problems like crazing, leaching, crawling, pinholing, blistering, etc.
Insight was first released in 1979 and has been used world wide since. It is an excellent teaching tool for demonstrating the principles of formula/analysis/unity, limit formulas, LOI, and material-oxide relationships.
It's SQL database engine
Insight + SQLite = Supercharged Database Insight
SQLite is the fastest, smallest, most reliable cross platform database and it is integrated into desktop Insight. This is the same database that is in your smart phone, tablet or MP3 player. Read about it at http://sqllite.org (you can download a command-line shell from there to execute SQL commands on the database).
Desktop Insight builds the database automatically at startup (if it does not exist) and imports any existing recipe files it finds. The Insight recipe database is in just one file, it is maintained in the same folder as MDT and recipe files, so it is easy to find and backup. Insight now uses the traditional XML format recipe files as an automatic backup so you can actually erase the database file and it will be rebuilt and the recipes reimported! The previous recipe filing system has not been discarded, but improved: it reads and writes all legacy format recipe files using a standard file open/save dialog. Insight has always been targeted at ceramic calculations but now it also has the best database.
How to View the Database
Many free and paid SQLite database readers are available. There are also online viewers that can read and display the database right from a webpage. For example, at http://inloop.github.io/sqlite-viewer/ you can simply drop the INSIGHTDATA.DB file on to it and view the tables and do queries.
File Formats and Data Storage
Desktop Insight still supports all legacy format recipe files (RCP, RCX, XML) using a standard file open/save dialog. Multiple copies can be set up to use the same recipe data using a cloud drive. Insight stores material data in an XML database that it loads into memory at startup. When you edit individual materials Insight updates that XML file.
Frequently Asked Questions
This page is no longer updated (since Desktop Insight is a legacy product).

What People Have Said

"I formulate clays and glazes for a clay manufacturer ... Insight has been a valuable asset to our formulation process and the testing procedures you recommend have been of great use to us over the years as well. "
"Some of the glazes I've tried (from other recipe books) have worked while others have not. Kind of feels like flying an airplane without knowing what the controls do. I understand how to weigh and mix and am just learning about the different materials. To gain more information, I started researching glazes and how they work on the internet and came across your site. I want to be in control of the 'flying plane' as it were. So far I've had a few successful 'flights' but it was mostly luck. If I'm going to have a unique voice in my surface treatment, I'm going to need to know what to adjust to get the desired results. "
"I like your software. My background is engineering so I am comfortable with all the chemistry and the program sure does all the work. INSIGHT has been a big help!"
"I downloaded a trial version of Insight today and must admit that I'm having way too much fun. It's a good thing my boss allows me to do my own research in my spare time, although he didn't seem to understand why I was bouncing in my chair."
"This program has helped me so much so thanks for keeping it going!"
"I have to share my absolute joy with you. I pulled out my tests from the kiln today and they were absolutely wonderful!!!! When people ask for the recipe, I'm going to tell them, "I'll do better than give you the recipe--I'll show you how you can create your own glazes that will be as wonderful these." Then I'm going to refer them to your web page. Thank you! Thank you! I am on cloud 9, where I doubt if I will sleep tonight due to all of the excitement!"
"My goal is to reformulate and simplify many of my old cone 9-10 glazes to cone six, substitute ingredients for materials no longer available and remove any ingredient that now has been found to be toxic or questionable. Of all the software I reviewed so far, I have found yours to be the best and easiest to use. Your tutorials are also excellent."
"Your software loaded fine and looks great. Your message of control is spot-on. I have a Master of Fine Art degree where I concentrated in ceramics ... Coming from a time when I did all the chemistry on pad and paper, I'm delighted to see the strides you've made in your software because I've got 15 years of ideas pent up."
"I really love this software!"
"I taught glaze research for years, (yes we used Insight quite a bit!) .. I used 'Insight' to successfully convert Tom Colemans copper red recipe into UK ingredients. "
To see more (at random) refresh this page