Desktop Insight is our interactive software that you download and install on Windows, Linux and Macintosh. It has been the world-wide industry standard since 1980.

Insight brings you the power of glaze chemistry to understand, formulate, fix and adjust glazes. Digitalfire.com provides training and reference materials that make it possible for almost anyone to take control of their glazes.
Things Have Changed. Desktop Insight is Now Free!
Download it from the Files panel in your Insight-live.com personal or group account.
•It installs as level 2, without need of a key.
•Replace your current keyed version of desktop Insight with this.
•No features have been removed.
•It will never expire.

How to Download Desktop Insight
Desktop Insight can be downloaded for free from the Files panel in your active Insight-live.com account. However Insight-live.com is the next generation, it is online and much more comprehensive so we are advising all clients to use it instead.
Downloading: The Files panel title bar is orange. Open it and check the Public Files checkbox. Then click Search. You will see the publicly available files.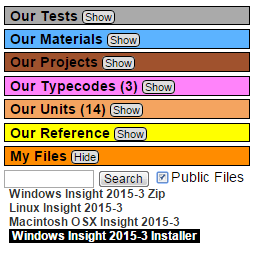 Click the one you want and its panel will appear to the right. Read the information, click the URL links at the bottom to learn more, then click the link to download the file.

Please read the Information
Especially for the windows version. There is possibility you will also have to download the Microsoft C++ Redistributable 32 or 64 bit support libraries (the reason is explained in the text). This is a separate download and install (only needs to be done once).
Why You Might Still Need Desktop Insight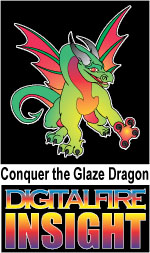 Insight-live is much more about your data but it still does glaze chemistry. However desktop Insight is still more interactive and easier if you just want to mess around with chemistry and UMFs. Desktop Insight is still useful in school and university programs where teachers are just trying to teach chemistry concepts. We will continue to support it for years to come and build bridges to make it easier to transfer information back and forth between the two.
We personify the attitudes that counter your desire, ability and efforts to understand and control your glazes as the "Glaze Dragon". Being able to tap the power of glaze chemistry is a big part in fighting that dragon! Why? There is a direct relationship between the way ceramic glazes fire and their chemistry. Insight is a calculation tool anyone can use to learn and harness the power of glaze chemistry.
Fix problems like crazing, blistering, pinholing, settling, gelling, clouding, leaching, crawling, marking, scratching, powdering.
Substitute frits or incorporate better, cheaper materials, replace no-longer-available ones (all while maintaining the same chemistry).
Adjust melting temperature, gloss, surface character, color.
Identify weaknesses in glazes to avoid problems.
Create and optimize base glazes to work with difficult colors or stains and for special effects dependent on opacification, crystallization or variegation.
Create glazes from scratch and use your own native materials in the highest possible percentage.
Without glaze chemistry you'll never really have control and you could be a slave to your suppliers or the trafficing in recipes that never seem to work.
What is it?

A desktop application for Windows, Linux, Macintosh that you download and install.
Insight is a classic glaze chemistry calculator
It interactively converts recipes to formulas and back. The main Insight window shows side-by-side recipes and their formulas, you can make chemistry changes to one while comparing it with the other.
Insight is also a library and a teacher
It puts at your fingertips a huge amount of information to help you learn the principles of glaze chemistry and it teaches you how to adjust, fix and formulate glazes.
It is a database
You can store all your recipes, picture, material information where you can easily find it.
It is a problem solver
Using our videos, instructional and reference materials and our personal help you can solve problems like crazing, leaching, crawling, pinholing, blistering, etc.
Insight was first released in 1979 and has been used world wide since. It is an excellent teaching tool for demonstrating the principles of formula/analysis/unity, limit formulas, LOI, and material-oxide relationships.
It's SQL database engine
Insight + SQLite = Supercharged Database Insight
SQLite is the fastest, smallest, most reliable cross platform database and it is integrated into desktop Insight. This is the same database that is in your smart phone, tablet or MP3 player. Read about it at http://sqllite.org (you can download a command-line shell from there to execute SQL commands on the database).
Insight builds the database automatically at startup (if it does not exist) and imports any existing recipe files it finds. The Insight recipe database is in just one file, it is maintained in the same folder as MDT and recipe files, so it is easy to find and backup. Insight now uses the traditional XML format recipe files as an automatic backup so you can actually erase the database file and it will be rebuilt and the recipes reimported! The previous recipe filing system has not been discarded, but improved: it reads and writes all legacy format recipe files using a standard file open/save dialog. Insight has always been targeted at ceramic calculations but now it also has the best database.
How to View the Database
Many free and paid SQLite database readers are available. There are also online viewers that can read and display the database right from a webpage. For example, at http://inloop.github.io/sqlite-viewer/ you can simply drop the INSIGHTDATA.DB file on to it and view the tables and do queries.
File Formats and Data Storage
Desktop Insight still supports all legacy format recipe files (RCP, RCX, XML) using a standard file open/save dialog. Multiple copies can be set up to use the same recipe data using a cloud drive. Insight stores material data in an XML database that it loads into memory at startup. When you edit individual materials Insight updates that XML file.
Why Digitalfire Insight is the Best

Go to Topic: Why Digitalfire Insight is the Best
Frequently Asked Questions

What People Have Said

"This is a really lovely program and all of my concerns have been dealt with. Please ignore any comments I have previously left."
"We just had a weekend of Ron Roy teaching Insight to us. Now, the whole glaze calc mystery makes tons of sense. I LOVE Insight and I'm kicking myself for not knowing sooner."
"Things are good (actually...GREAT!). I like it! I even tried putting in pictures. Had never used that feature before. The open recipe layout is super, particularly the "more window". I know that part has been there for awhile, but I really like that part. The search button is working great, too."
"I am a BFA ceramics student who has just downloaded the trial version of your Insight software. What a great program!! "
"I mostly work with crystalline glazes. All the European potters speak in terms of Seger formulas so I have to become proficient with the program if I am to communicate with them."
"I enjoy using INSIGHT."
"I'm up and running. Thanks for the fine product and help."
"Insight Software rocks!"
"Just to let you know, even though it is a very complex program to learn, I am thrilled by the flexibility, and don't even use my other glaze programs anymore. I also, appreciate the very prompt help that you provide. In short, I am an Insight Addict!"
"I have quit my job to do pottery full time, and am in need of your great materials and calculator."
To see more (at random) refresh this page