This leaching mug needs a liner glaze. Seriously!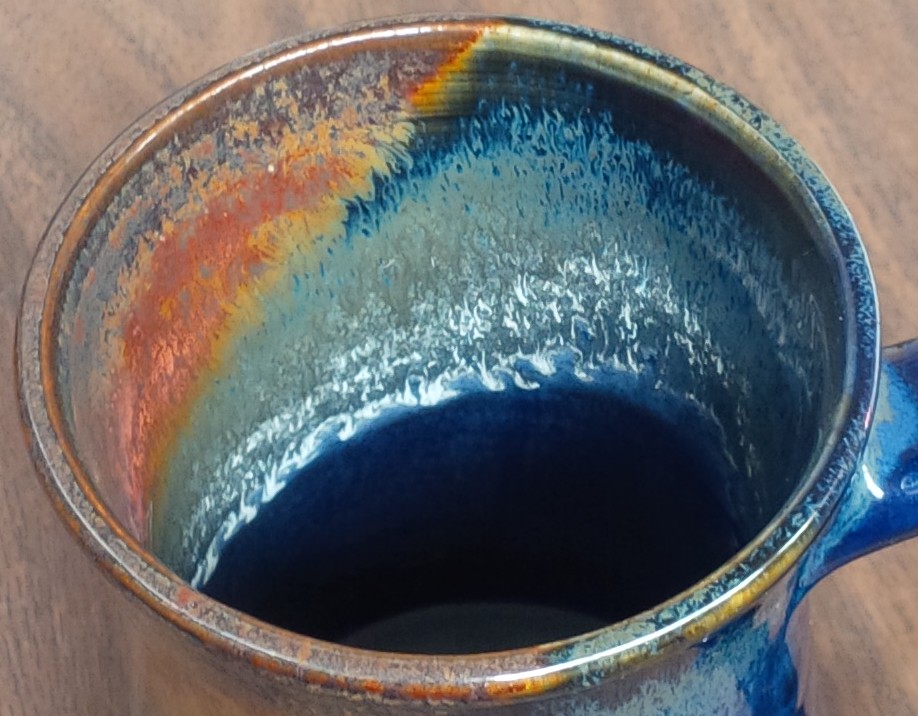 Friday 19th September 2014
Three cone 6 commercial bottled glazes have been layered. The mug was filled with lemon juice over night. The white areas on the blue and rust areas on the brown have leached! Why? Glazes need high melt fluidity to produce reactive surfaces like this. While such are normally subject to leaching, the manufacturers were able to tune the chemistry of each to make them resistant. But the overlaps mingle well (because of the fluidity), they are new chemistries, less stable ones. What is leaching? Cobalt! Not good. What else? We do not know, these recipes are secret. It is much better to make your own transparent or white liner glaze. Not only can you pour-apply it and get very even coverage, but you know the recipe, have control, can adjust to fit your body.
Pages that reference this post in the Digitalfire Reference Library:
How to Liner-Glaze a Mug, Where Do I Start?, Food Safe, Digitalfire Tech Tips PDF Handouts, Leaching, Functional, Liner Glaze
---

This post is one of thousands found in the Digitalfire Reference Database. Most are part of a timeline maintained by Tony Hansen. You can search that timeline on the home page of digitalfire.com.