Alberta and Ravenscrag Slip pure at cone 5 reduction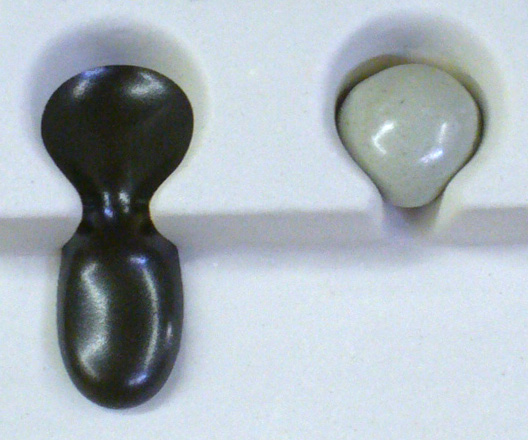 Wednesday 25th July 2012
At cone 5R pure Alberta Slip (left) is beginning to melt and flow down the runway of this tester. It is producing a matte gunmetal surface. Pure Ravenscrag Slip (right) is just starting (it needs frit to develop melt fluidity at this temperature). The iron in the Alberta Slip is melting it because of the reduction atmosphere in the kiln (it does not move like this in oxidation).
Pages that reference this post in the Digitalfire Reference Library:
Alberta Slip, Ravenscrag Slip, Gunmetal glaze
---

This post is one of thousands found in the Digitalfire Reference Database. Most are part of a timeline maintained by Tony Hansen. You can search that timeline on the home page of digitalfire.com.