Two stains. 4 colors. Will the guilty oxide please step forward.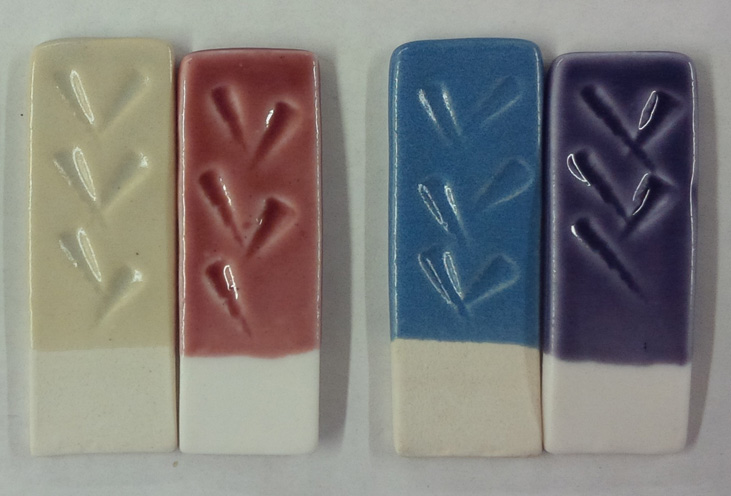 Thursday 3rd April 2014
We are looking at two pairs of samples, they demonstrate why knowing about glaze chemistry can be so important. Both pairs are the same glazes: G2934 cone 6 matte and G2916F cone 6 glossy. The left pair has 5% maroon stain added, the right pair 5% purple stain. The red and purple develop correctly in the glossy but not the matte. Why? The Mason Colorworks reference guide has the same precaution for both stains: the host glaze must be zincless and have 6.7-8.4% CaO (this is a little unclear, it is actually expressing a minimum, the more the CaO the better). The left-most samples of each pair here have 11% CaO, the right-most have 9%. So there is enough CaO. The problem is MgO (it is the mechanism of the matteness in the left two), it impedes the development of both colors. When you talk to tech support at any stain company they need to know the chemistry of your glaze to help.
Pages that reference this post in the Digitalfire Reference Library:
ZnO, CaO, MgO, G2916F - Cone 6 Stoneware/Whiteware Glossy Base Glaze, G2934 - Matte Glaze Base for Cone 6, Digitalfire Tech Tips PDF Handouts, Glaze Chemistry, Stain, Opacifier, Opacification
---

This post is one of thousands found in the Digitalfire Reference Database. Most are part of a timeline maintained by Tony Hansen. You can search that timeline on the home page of digitalfire.com.