Let me count the reasons this glossy white cone 6 glaze is pinholing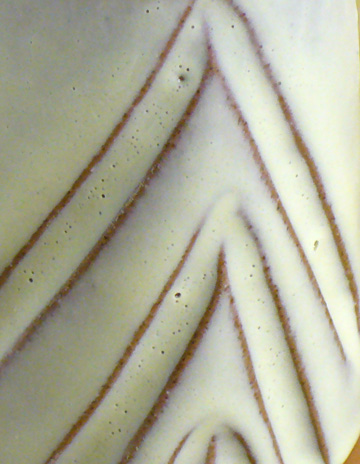 Wednesday 25th July 2012
First, the layer is very thick. Second, the body was only bisque fired to cone 06 and it is a raw brown burning stoneware with lots of coarser particles that generate gases as they are heated. Third, the glaze contains zircopax, it stiffens the melt and makes it less able to heal disruptions in the surface. Fourth, the glaze is high in B2O3, so it starts melting early (around 1450F) and seals the surface so the gases must bubble up through. Fifth, the firing was soaked at the end rather than dropping the temperature a little first (e.g. 100F) and soaking there instead.
Pages that reference this post in the Digitalfire Reference Library:
Pinholing, Borate, Decomposition, Firing Schedule, Soaking, Glaze Pinholes, Pitting, Glaze Blisters
---

This post is one of thousands found in the Digitalfire Reference Database. Most are part of a timeline maintained by Tony Hansen. You can search that timeline on the home page of digitalfire.com.