A good matte glaze. A bad matte glaze.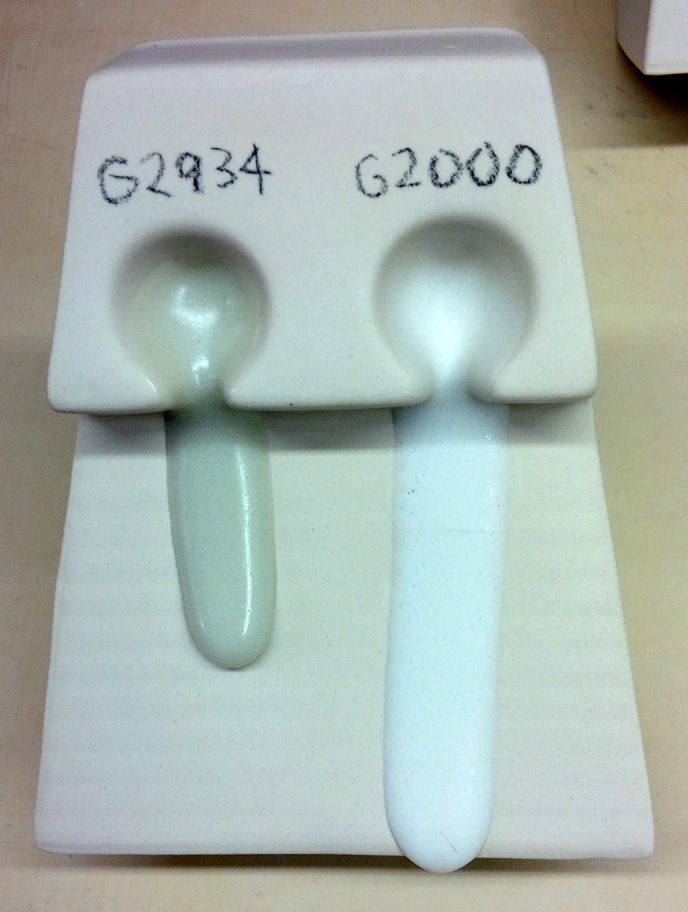 Wednesday 26th March 2014
A melt fluidity comparison between two cone 6 matte glazes. G2934 is an MgO saturated boron fluxed glaze that melts to the right degree, forms a good glass, has a low thermal expansion, resists leaching and does not cutlery mark. G2000 is a much-trafficked cone 6 recipe, it is fluxed by zinc to produce a surface mesh of micro-crystals that not only mattes but also opacifies the glaze. But it forms a poor glass, runs too much, cutlery marks badly, stains easily, crazes and is likely not food safe! The G2934 recipe is google-searchable and a good demonstration of how the high-MgO matte mechanism (from talc) creates a silky surface at cone 6 oxidation the same as it does at cone 10 reduction (from dolomite). However it does need a tin or zircon addition to be white.
Pages that reference this post in the Digitalfire Reference Library:
ZnO, G2934 - Matte Glaze Base for Cone 6, Trafficking in Glaze Recipes, Tune your matte glaze to the degree of matteness you want, Matte Glaze, Opacifier, Opacification, Cutlery Marking, Food Safe, Crystallization, Glaze Recipes
---

This post is one of thousands found in the Digitalfire Reference Database. Most are part of a timeline maintained by Tony Hansen. You can search that timeline on the home page of digitalfire.com.