A glaze incompatible with chrome-tin stains (but great with inclusion stains)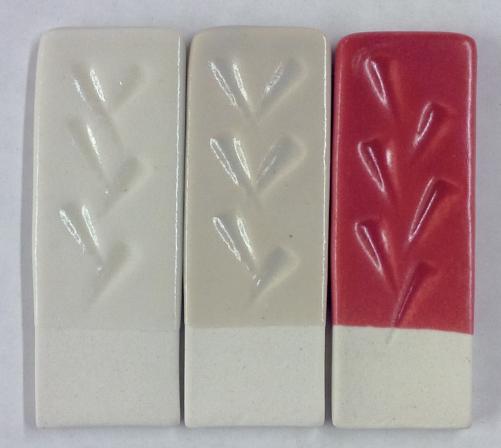 Tuesday 1st April 2014
Left: a cone 6 matte glaze (G2934 with no colorant). Middle: 5% Mason 6006 chrome-tin red stain added. Right: 5% Mason 6021 encapsulated red stain added. Why is there absolutely no color in the center glaze? This host recipe does not have the needed chemistry to develop the #6006 chrome-tin color (it lacks sufficient CaO and has alot of MgO). Yet this same matte glaze intensifies the #6021 encapsulated stain at only 5% (using 20% or more encapsulated stain is to develop the color is not unusual).
Pages that reference this post in the Digitalfire Reference Database:
CaO, G2934 - Matte Glaze Base for Cone 6, Formulating a Clear Glaze Compatible with Chrome-Tin Stains, Encapsulated Stains
---

This post is one of thousands found in the Digitalfire Reference Database. Most are part of a timeline maintained by Tony Hansen. You can search that timeline on the home page of digitalfire.com.