Plainsman Super Kiln Wash
Share form Insight-live.com (Lab Documentation and Calculation System) by Digitalfire
Stop using cheap kiln wash, get something good. You will never go back to anything else. This uses the Cadillac of refractory materials and binds it down with gum.
---
Plainsman Super Kiln Wash
Additions
Amt
Units
*Laguna Gum Solution
113.000
GM
22.60%
Water
200.000
GM
40.00%
Total:0.81 (R)
Notes
Also useful as a refractory ceramic coating. This recipe is to make enough to fill a 1 pint jar.

The objective was to produce a super-refractory powder that stays in place but does not harden, chip or cake, that does not shrink and crack. And that paints on well and stays wet long enough to level and even out with a brush.

Zircopax is among the most refractory materials in ceramics, so it was employed (calcined alumina could also be used). Calcined, rather than raw kaolin, was employed to help densify and stabilize the coverage (by its flat particle shape). Laguna gum solution was added to harden the dry layer and slow down the drying (their gum solution has a higher percentage of CMC than achievable using common mixing methods).

500g of powder needed to make enough slurry to fill a pint jar. Laguna039;s suggested gum proportion: 1.5g per 100g glaze powder (for 500g: 7.5).
Laguna gum solution: 6.6g CMC Gum per 100g
Thus: 7.5 / 6.6 x 100 = 113g

Kiln wash is a little thin, but paints onto shelves extremely well (if they are level). It is a little difficult to mix final amount of powder into water/gum solution mix, a good mixer it needed.

Yield: Approx. 7/8 of a pint.

in June of 2018 Joe did a S.G. on a batch of suggested recipe quantities and found it to be 1.87
Approximate retail cost for materials to make this suggested batch recipe is $7.50

In July of 2018 Joe took a pint of this suggested recipe and used a small paint roller to apply one thin coat to the 12 x 24 gas kiln shelves in the lab and one pint will coat 9 shelves of this size, so in comoparison, this would be 2592 square inches (or 18 square feet) of coverage.

The batch mixed up July 1 checked on July 30 and is hard-panning,
So, made another batch July 30 and added an additional 100 grams water and for the first time, 2 grams Epsom salts to see if this will solve hard-panning.
Checked this batch on August 8 and the mix is nicely suspended and easy to stir and use right away.
Pictures
L4001 Kiln wash (left) vs. typical kaolin:silica wash (right)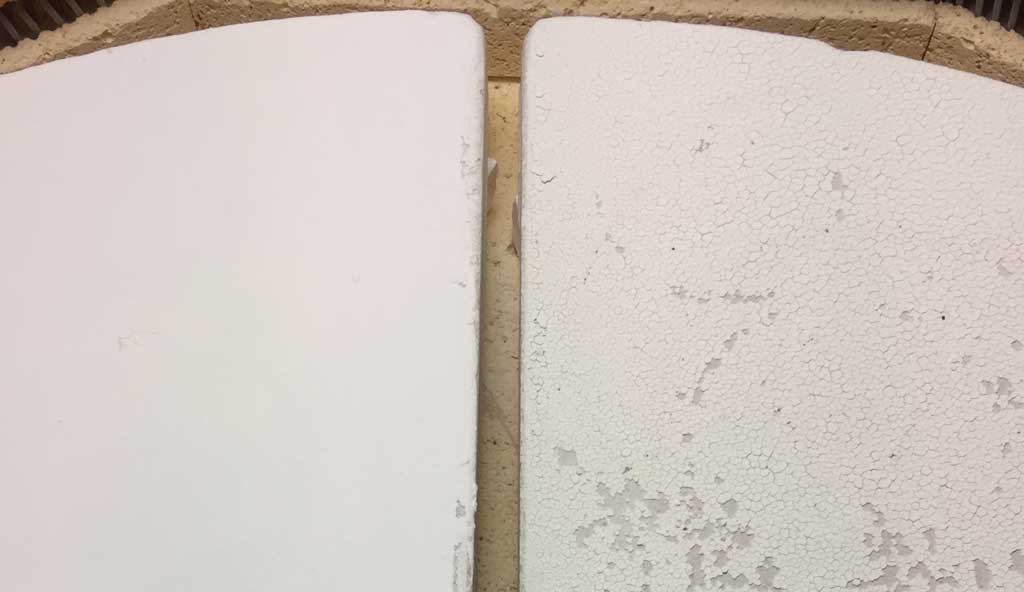 The new wash has been fired on and is adhering well, not shrinking or cracking and is not powdery. The layer is much thinner. The other side has been fired many times and the flakes stick to the foot rings of every piece fired in the kiln.
Super Kiln Wash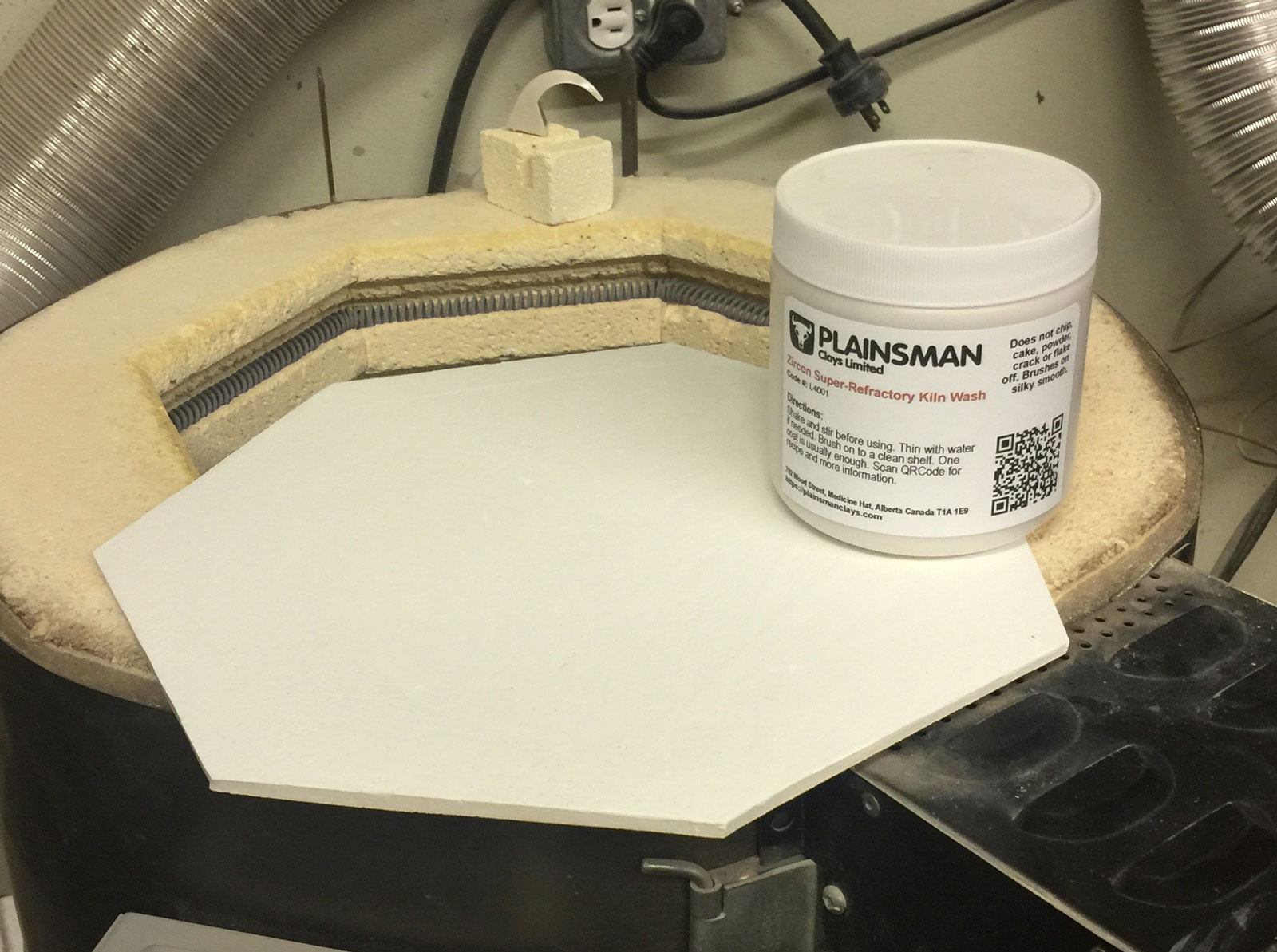 XML (to paste into Insight)
<?xml version="1.0"?> <recipes version="1.0" encoding="UTF-8"> <recipe name="Plainsman Super Kiln Wash" id="115132" key="nfAJn7bQ" date="2018-08-10" codenum="L4001"> <recipelines> <recipeline material="Zircopax" amount="400.000" unitabbr="GM"/> <recipeline material="Calcined Kaolin" amount="100.000" unitabbr="GM"/> <recipeline material="Laguna Gum Solution" amount="113.000" unitabbr="GM" added="true"/> <recipeline material="Water" amount="200.000" unitabbr="GM" added="true"/> </recipelines> </recipe> </recipes>
Born: 2017-08-03, Modified: 2018-08-10 10:53:56