G3879 Clear glaze on Plainsman L211 - Cone 04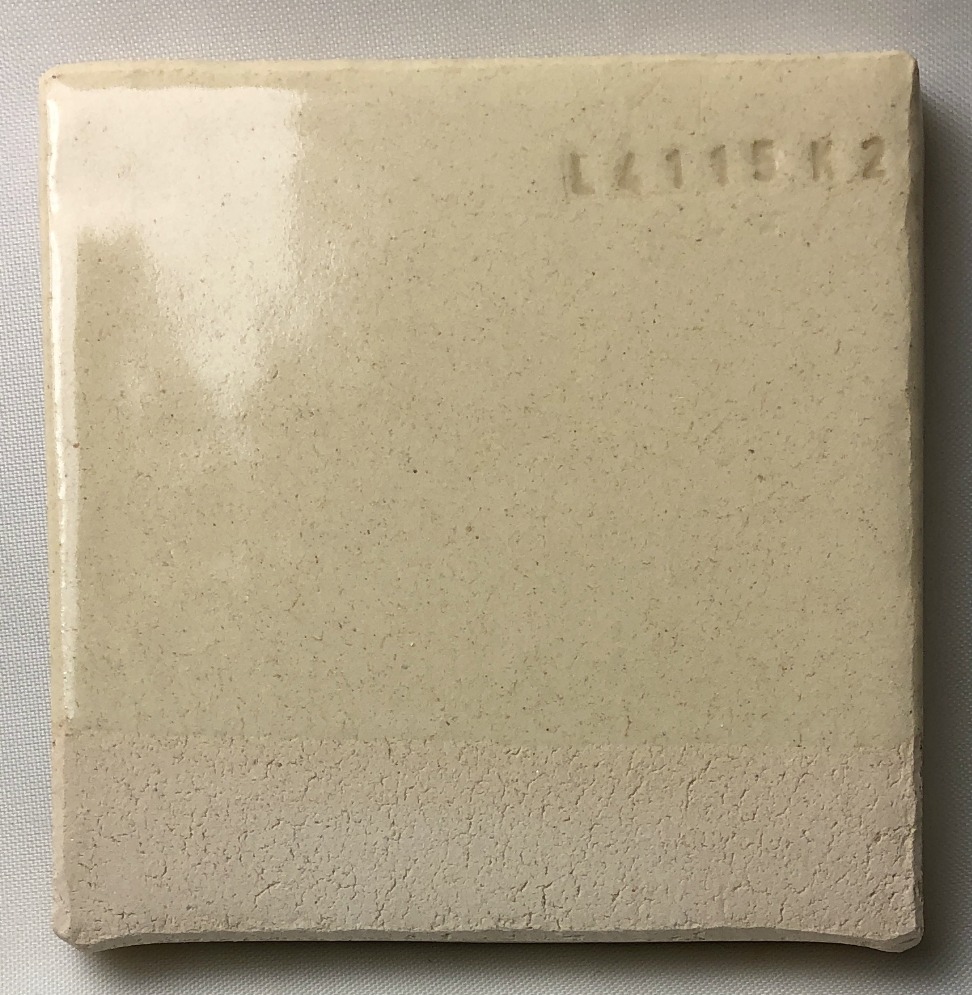 Glossy, crystal clear, no crazing! And this is a 42 mesh body containing zero talc.
Melt fluidity comparison with #1 commercial clear
We tested half-a-dozen commercial clears and found G3859 to be the best all-around one. This one has a very similar melt fluidity.
G3879 on Plainsman L210, L215 at cone 04
These are 42 mesh low fire bodies. They normally have issues with pinholing but using this glaze the results are stunning. The L210 contains no talc, the L215 has 10%, yet this glaze does not craze on either one (over time it shivers on the L215).
G3879 on SIAL 25F, Plainsman J2, L4170 TerraCotta
These are very different bodies. The leftmost contains talc to raise the thermal expanison to help prevent crazing with commercial glazes. The center one contains nepheline syenite (for the same purpose). The terra cotta on the right is just Redart and ball clay. This glaze fits are all three!
After a year, both the 25F and J2 were difficult to break, very strong!
Sial 10F, 25F with G3879 clear glaze at cone 03
Tile like these were done on a variety of bodies and fired at different temperatures. After a year:

Sial 10F
Cone 02: No crazing
Cone 04: Moderate crazing over time
Cone 06: Severe crazing
Cone 03: No crazing
Sial 25F
Cone 1: No crazing
Cone 03: No crazing
Cone 04: Crazing badly
L215
Cone 04: No crazing
L210
Cone 04: No crazing
L212
Cone 04: Crazing
Cone 1: No crazing
L213
Cone 04: No crazing
G3879 Clear on L4170 TerraCotta Casting
The clear glaze is G3879. The white on the outside of the one on the left has 10% added zircopax. The overglaze colors are Spectrum Majolica colors.
G3879 with 5% Tin Oxide on SIAL 10F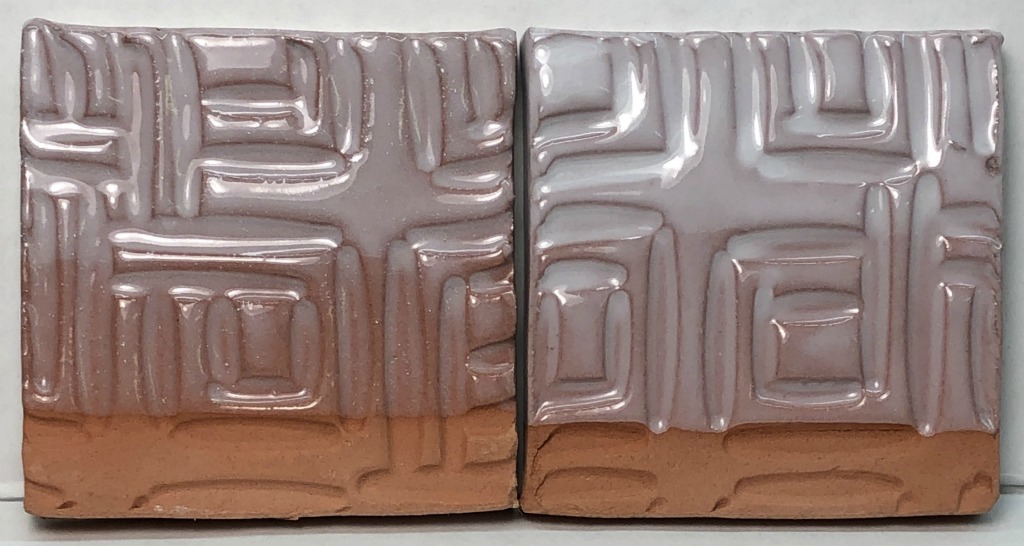 When mixing Tin (as an opacifer), it is very important to mix it well. The one on the left was mixed poorly (at high speed with my propeller mixer but not for long enough). The one on the right was mixed much better and so produces better opacity. Tin is expensive so this is important.
This was not crazed after a year (cone 03).
G3879 on Plainsman Buffstone - cone 03
Buffstone is an entry-level low-price body not intended to fit commercial glazes. Yet this glaze fits at cone 03 (still fitting after a year)! And without any surface defects.

At cone 04 it does craze over time.
G3879 Zircon White on SIAL 25F, 10F - cone 03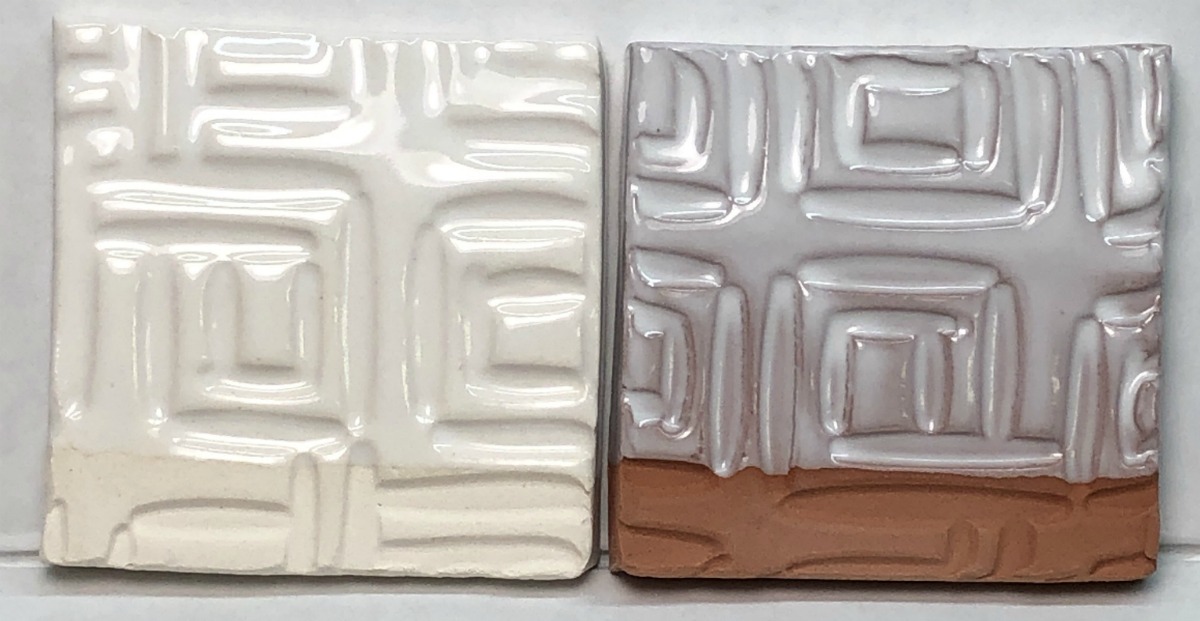 10% zircopax has been added. It is melting well so the percentage could be increased for great opacity on red burning bodies.
G3879 at cone 1 on SIAL 10F, 25F
Crystal clear, no running. Perfect!
GBMF test on G3879 at cone 1
It is not running and flowing nearly as much as expected. The melt surface tension holds it in place, so it should be able to fire to cone 2 and beyond.
G3879 on terra cotta at cone 04, 02, 1
This is on the L4170 body, it is a lighter firing product, 25F, from SIAL. After use on various bodies, it was clear that fit at cone 03 is better than at 04 and much better than 06.
G1916M, G3879, G2931K on L215 - Thick
Thickly applied encourage poor fit to show up.
Clearly, as shivering and cracking demonstrate, G3879 is under excessive compressive on L215.
The other two are not showing any issues (other than heavy bubbling because of the thickness).

G1216M is a blend of 3124/3124 with kaolin. G2931K is the Zero3 clear.
L213 with G3879 glaze at cone 04
Survived 325F:IceWater test with almost no crazing. However there was a little shivering on the rim after a month. Another mug had no crazing on the inside after several months.
G3879 on L4115J2 buff body at cone 04
Glaze is ultra clear.
It was refired at cone 022 to apply a decal.
It was 325F to icewater tested without crazing.
It was waterlogged (the bottom is bare clay) and then put in a microwave for two minutes. Despite getting incredibly hot it did not fracture or craze! Was still fitting after a year+.
G3879 on SIAL 10F at cone 02
No crazing after several months. Flawless service.