G2931L2 and L on L212 at cone 04
The L2 is a beautiful transparent (even though it is applied quite thickly). The L2 has no micro-bubbles while the L does. The L2 is thicker. Neither are crazing after two days out of the kiln. L2 is still OK after two years.
G2931L2 survives 300F:Icewater test on F100
Icewater was only put inside. It was stirred constantly to stay cold.
G3857B underglaze on Buffstone
Left one was bisque fired, right one was dry.
Both have two coats of G2931L2 clear glaze, brushed on.
Buffstone with G3857 underglaze
Left: Bisqued on G3857 black underglaze. Left half is covered with G2931L2 (dipped), right half is Amaco LG10 (painted). The latter is more transparent, but likely because it is thinner and coverage was much better (the dip shed off the black (yet healed amazingly well). The LG10 is crazing. Its intensity and clarity over the black is fantastic. The L2 is not crazed (even though it is thicker) and it healed the poor application.

Right: Under and overglazed leather hard. L2 left, LG10 right. LG10 covered well (although crazed) but it crawled (pulled away) some parts of the black underglaze (shown here), it was OK of the other black strokes. The L2 was painted, it is much thicker (not crazed). It pulled the black off in a couple of spots, but only a little.
G2931L2 on L215 bisqued and dary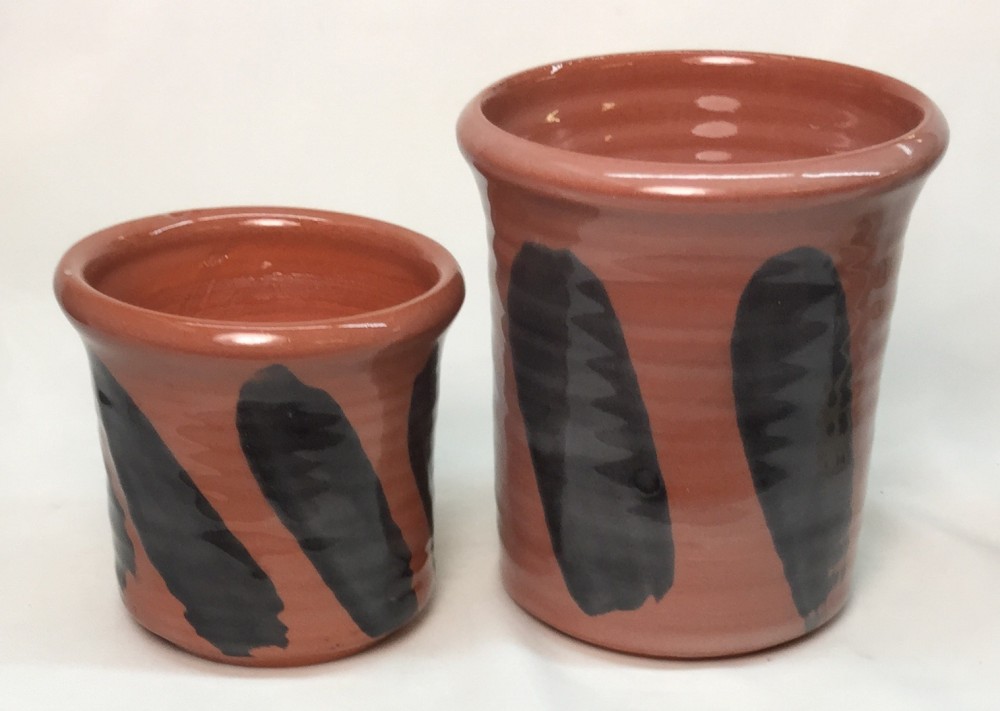 Clear glaze is on pretty thick, clouding somewhat.
G2931L2 clear on buffstone bisque, unbisqed cups
Clouding happens for both, is applied too thick.
Various clear glazes on L215 P6654 Cone 04
Left to right: Crystanthos SG213, L2, Amaco LG-10.
The L2 is on thinner in the mug (thicker and clouding on the front)
They are fit (no crazing or shivering).
Not shown is Spectrum 06 Clear. It shivered badly and clouded.
Typecodes
ST-Untitled typecode
Alternate Code Number:GS04-1
Testdata
LDW - LOI/Density/Water Content
XML (to paste into Insight)
<?xml version="1.0"?> <recipes version="1.0" encoding="UTF-8"> <recipe name="Zero3 L Low Expansion w/F-69" id="131572" key="cDyzeCEi" date="2020-07-20" typecodes="ST" codenum="G2931L2" picturebasename=""> <recipelines> <recipeline material="Ferro Frit 3195" amount="21.500" tolerance="" unitabbr="KG"/> <recipeline material="EPK" amount="10.000" tolerance="" unitabbr="KG"/> <recipeline material="Fusion Frit f-69" amount="18.000" tolerance="" unitabbr="KG"/> <recipeline material="Fusion Frit F-524" amount="48.000" tolerance="" unitabbr="KG"/> <recipeline material="Zinc Oxide" amount="2.500" tolerance="" unitabbr="KG"/> </recipelines> </recipe> </recipes>
Born: 2006-03-16, Modified: 2020-07-20 11:03:49